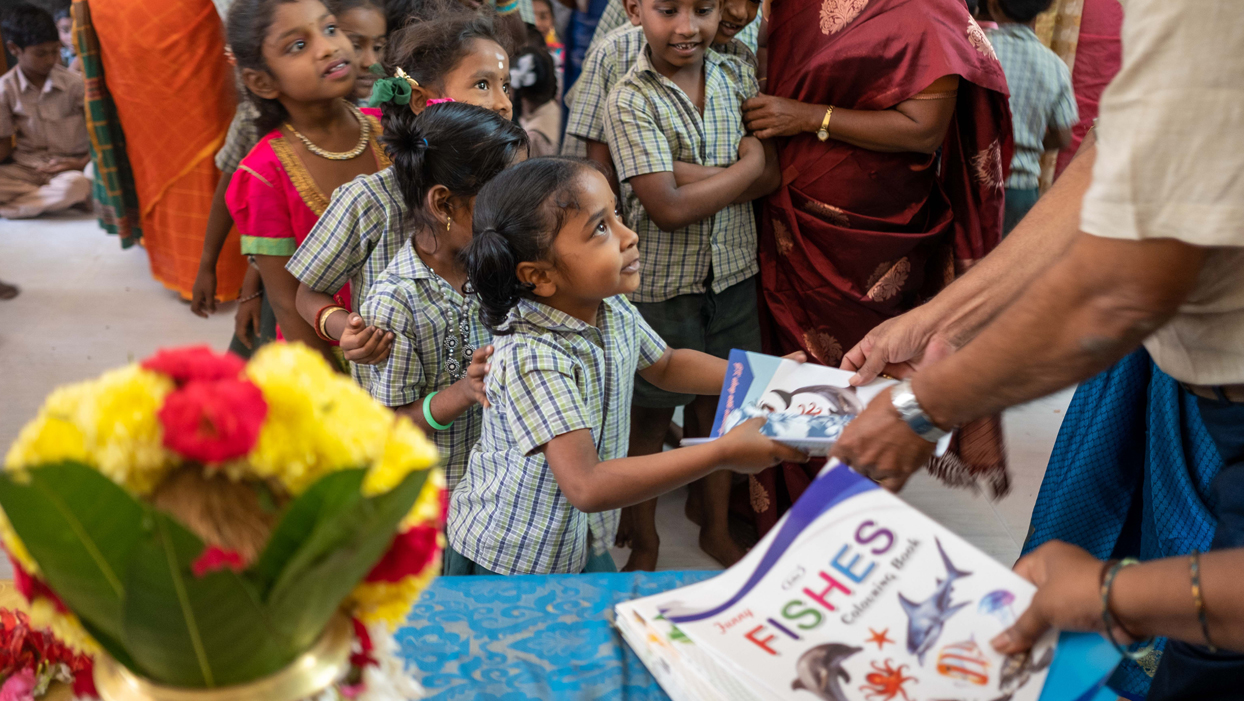 As an organisation genuinely interested in the overall development of the communities, especially children, AVAG took part in the initiative of Auroville Press to distribute a coloring storybook for around 2900 students studying in 24 government schools in our area. The excitement in the air was palpable as the AVAG team arrived with boxes of supplies, eager to share the joy of creativity with young minds.
As the team set up tables, students of 1st to 3rd standards eagerly gathered around, wondering what surprises awaited them. With bright smiles on their faces, they watched in awe as the AVAG team began to distribute drawing books and art materials. 
Meanwhile, the students of 4th to 9th standards received an additional surprise - a storybook titled 'What the Eucalyptus told the Elephant?'  that beautifully delves into the concept of 'Abolition of Ego' in a poetic and easily comprehensible manner and was published by Auroville Press. As the children eagerly flipped through the pages, they were charmed into a world of imagination and wonder. The illustrations and text combined to create an experience that captivated the children's imagination and sparked their creativity.
The AVAG team observed the children's reactions with delight, pleased to see the children's enthusiasm and joy. As the children explored their new art materials, the sound of scribbling pencils and rustling paper filled the air. It was a beautiful sight to behold - young minds exploring their creative potential, expressing themselves freely through their art.
The AVAG team understood the importance of art in a child's life, and this distribution was just one step towards empowering the young minds of today. The school teachers highly appreciated the quality of the book and the human values the book conveys and expressed their gratitude to AVAG and to the Auroville Press. 
The distribution of art materials had been a success, and it was clear that the power of art had touched the hearts of many.