Objective
Since 1995, this program assists women and men's groups in ethical and fair practices of lending, trains them in financial literacy, and provides opportunities for income generation through enterprise creation.
Through a sustainable approach of the revolving fund, a savings program, and access to flexible and ethical financial institutions, we support the families of the groups to be free from money lenders and create a supportive financial network.
Image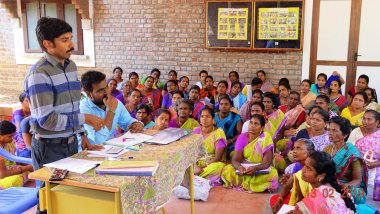 Image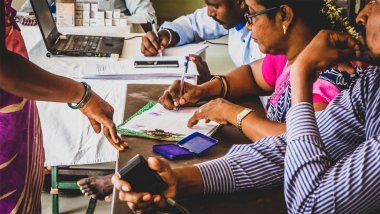 Lending Possibilities
Groups are required to pass a resolution agreeing to provide a variety of loans to their members:
Internal  Source: Provided from the collective savings of the group.
External Source:
1. Linking groups to nationalised banks to get loans for their needs.
2. AVAG Revolving Fund - Created by AVAG with the grant from the German Government, it is managed by the women's federation to provide loans to its members.
3. Udhayam Revolving Fund - A central fund from the federation that offers loans to its members.
4. Festival loan - Both AVAG and the federation collaborate with a textile shop where members can buy garments up to Rs.10,000 during festivals like Diwali and Pongal.
5. AVVAI loans  - Managed by the federation and AVAG.
Uniqueness
Empowerment of women -  All decisions related to the financial inclusion program clearly communicated by women, for women and always welcome the input of the groups themselves.
Need-based loans -The amount is decided case by case by the federation and groups.
Up to three loans to members through multiple sources - Normally groups can obtain only one loan from an organization. When people need money in between, they go to the moneylenders, who charge interest rates up to 120 percent per year. Keeping this in mind, the federation decided to offer the opportunity for its members to obtain up to three loans at the same time.
A lesser rate of interest and freedom to waive or reduce interest to the neediest -  When most of the women's groups in Tamil Nadu charge 24 percent of interest on their internal loans, our women's groups charge 18% interest per year. They have the freedom to waive or reduce the interest rate to members in crisis.
The interest earned is used for designing and executing new initiatives for women. This sustains AVAG's empowerment initiatives.